Move: Packaging, Photography, UI/UX
Overview
When I joined Move in 2019, there was only a brandbook. We had just over 3 months to launch an entire online grocery store with 100+ products. Meanwhile, we were raising awareness and capital by selling memberships and merchandise through Kickstarter.

Role + Responsibilities
As the sole designer on the team, I was in charge of all design aspects. This was broken into 3 different areas of work: the store, the products, marketing.

The Store: I was in charge of designing on the onboarding process for members who signed up during fundraising campaigns. Additionally, I worked closely with the CEO to design the entire digital store experience.

The Products: With just a brandbook, I worked to expand the design system and adapt it to physical products. I was responsible for designing the packaging for all products, including shipping materials. I also photographed all products and managed a team of designers and videographers in producing content for the store.

Marketing: I was responsible for all graphics for Kickstarter, social media, and traditional media.
Partners + Stakeholders

I worked closely with the Supply Chain Manager on designing packaging for all of our products and shipping materials.

On the digital product side, I collaborated with the CEO to design the marketplace. We worked with an NYC-based development firm to bring the designs to life.

For marketing, I worked with the CEO and Social Media Marketing Manager on both the Kickstarter fundraising compaign and social media compaigns for the launch of our marketplace.

Problem Statement
It is difficult for many Americans to get their hands on high quality food at a reasonable price. In a culture that is increasingly more aware of food, there is great demand for easy access to a wide selection of gourmet goods.

Over the last few years many delivery services have popped up to provide customers with an easy way to get groceries. One challenge that remains is varying availability of differents products depending on where people live. For instance, a customer in Indiana might not have access to a popular hot sauce that is readily available in the coastal markets. Or small-batch products can't be found in larger grocery chains.

How might we put the best food front and center?
Scope + Constraints
We were attempting to launch an entire marketplace in three months.

Time was the largest constraint because we had promised customers a February 2020 launch. Additionally, with limited funding, we had to make sure we were not running over budget with inventory and store development costs.

As a result, we had to work with a very lean design process that minimized revision work on the engineering side. Luckily, we had already collected significant data about our target users leading up to the actual UI/UX design work.
User Research



After we closed our Kickstarter campaign, we surveyed our members and found that over 50% of our respondants were 32-38 years old. The second largest group was 50+ years old. With this in mind, I knew that the challenge will be creating a single user experience that would cater to a generation that grew up with technology and one that struggles with navigating digital interfaces.

A large part of my focus was creating a smooth onboarding process because we wanted to convert as many pre-launch customers as possible. We built an educational component into the onboarding so that customers would become familiar with the various features and visual cues across our digital storefront.


We broke down the onboarding flow into several sections, where we would begin with information collection. We asked about favorite purchases, dietary preferences, and cooking habits to create a qualitative profile about each of our customers. Simultaneously, each question would be presented with a short explanation of how we use this information to customize their experience.

At the end of the onboarding process, we wanted to present a custom box with recommended products. This would not only show the breadth of products we carry, but also give users an opportunity to use the navigation tools to dive deeper into our platform and learn about each product.





Design Ideation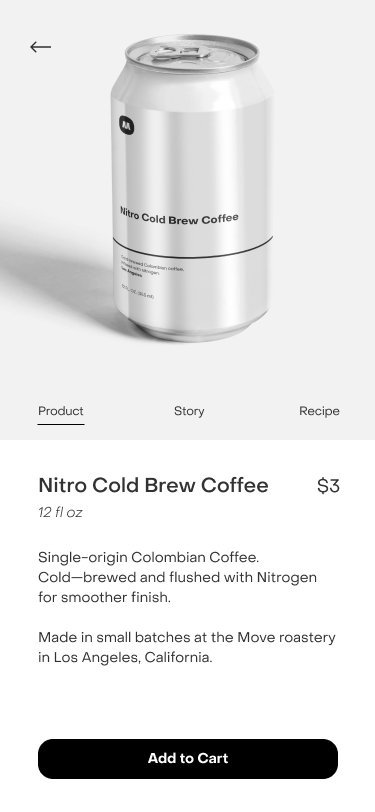 Testing
Given the time constraints, we only had a three weeks for our team to test the onboarding experience and the overall platform. We gave our friends and family access to the store to give us feedback. Our subsequent field-testing during launch gave us far more insight into the experience we had built.

With over 10,000 members awaiting the store launch, we faced 2 problems: we needed to refine the onboarding flow based on immediate observations and also test our fulfillment capabilities on a limited scale.

We broke down our launch into 3 separate tranches. The first group consisted of 1,000 members selected at random. This would allow us to evaulate how the the onboarding flow works and measure the volume of daily shipments we could handle.

Trackers on each onboarding step were added so we could see where drop-off hotspots occurred. Since we had a concierge team, we were also able to directly ask a few customers what they felt about the onboarding process.

We discovered that members were often confused why they had to submit their payment details at the beginning of the flow (since they had already purchased membership before the store launch). We moved it to later in the flow, so it seemed like a logical step after creating a shipment schedule. We also found that navigating aisles horizontally presented a challenge in mobile view. This would later be remedied in a larger design update.
Outcomes + Reflection
After we invited all members to the onboarding process, we saw a 67% success rate with nearly 7,000 members shopping on the store. We attributed a significant number of non-enrollees to dissatisfaction with the product selection and availbility after sending out a survey.

Even though the launch was an undeniable success, I would have liked more time to refine the design process. With more targeted user research and field testing, we could have developed a more mobile-friendly experience. Given the limited time and resources, we definitely delivered a product that I am proud of.