Case Study: Move
1. Overview
When I joined Move in 2019, there was only a brandbook. We had just over 3 months to launch an entire online grocery store with 100+ products. Meanwhile, we were raising awareness and capital by selling memberships and merchandise through Kickstarter.

2. Role + Responsibilities
As the sole designer on the team, I was in charge of all design aspects. This was broken into 3 different areas of work: the store, the products, marketing.

The Store: I was in charge of designing on the onboarding process for members who signed up during fundraising campaigns. Additionally, I worked closely with the CEO to design the entire digital store experience.

The Products: With just a brandbook, I worked to expand the design vocabulary and adapt it to physcial products. I was responsible for designing the packaging for all products, including shipping materials. I also photographed all products and managed a team of designers and videographers in producing content for the store.

Marketing: I was responsible for all graphics for Kickstarter, social media, and traditional media.
3. Partners + Stakeholders

I worked closely with the Supply Chain Manager on designing packaging for all of our products and shipping materials.

On the digital product side, I collaborated with the CEO to design the marketplace. We worked with an NYC-based development firm to bring the designs to life.

For marketing, I worked with the CEO on the Kickstarter campaign and the Social Media Marketing Manager for the launch of our marketplace.

4. Problem Statement
It is difficult for many Americans to get their hands on high quality food at a reasonable price. In a culture that is increasingly more aware of food, there is great demand for easy access to a wide selection of gourmet goods.

Over the last few years many delivery services have popped up to provide customers with an easy way to get groceries. One challenge that has remained is fractured availability of various products depending on where people live. For instance, a customer in Indiana might not have access to a popular hot sauce that is readily available in the coastal markets. Additionally many of these services are complicated to use. Addressing these issues will open up vast markets to specialty food producers, who are already doing very well in urban markets.

5. Users + Audience
We began by creating an ideal customer profile:

Foodie!
Millennial
Busy with working
Enjoys high quality products
Interested in eating healthy
Appreciates good design
Lives in urban market
After we closed our Kickstarter campaign, we surveyed our members and found that over 50% of our respondants were 32-38yo. The second largest group was 50+yo.
6. Scope + Constraints
As mentioned before, the scope was all-encompassing. We were attempting to launch an entire marketplace in three months.

Time was the largest constraint because we had promised cusomters a February 2020 launch. Additionally, with limited funding, we had to make sure we were not running over budget with inventory and store development costs.

As such, we worked with a very lean design process that minimized revision work on the engineering side.

7. Design Process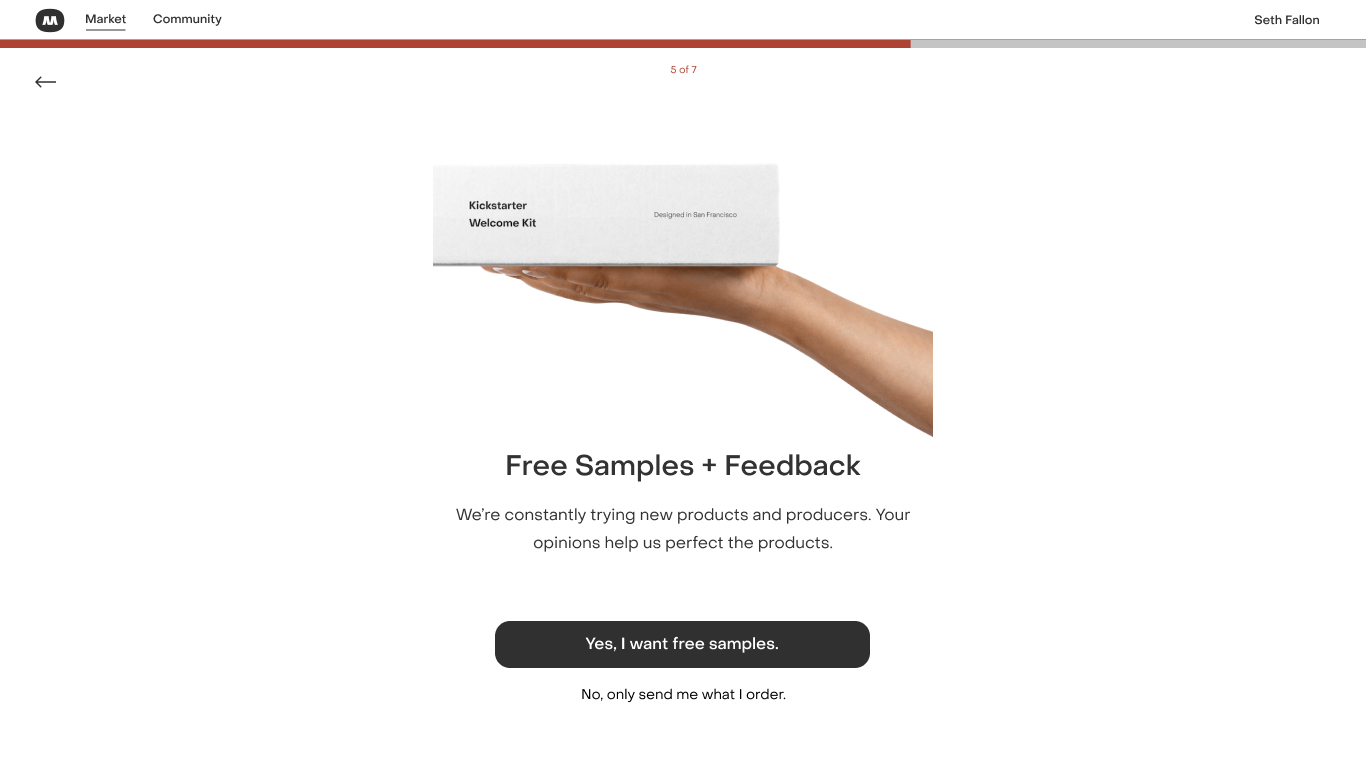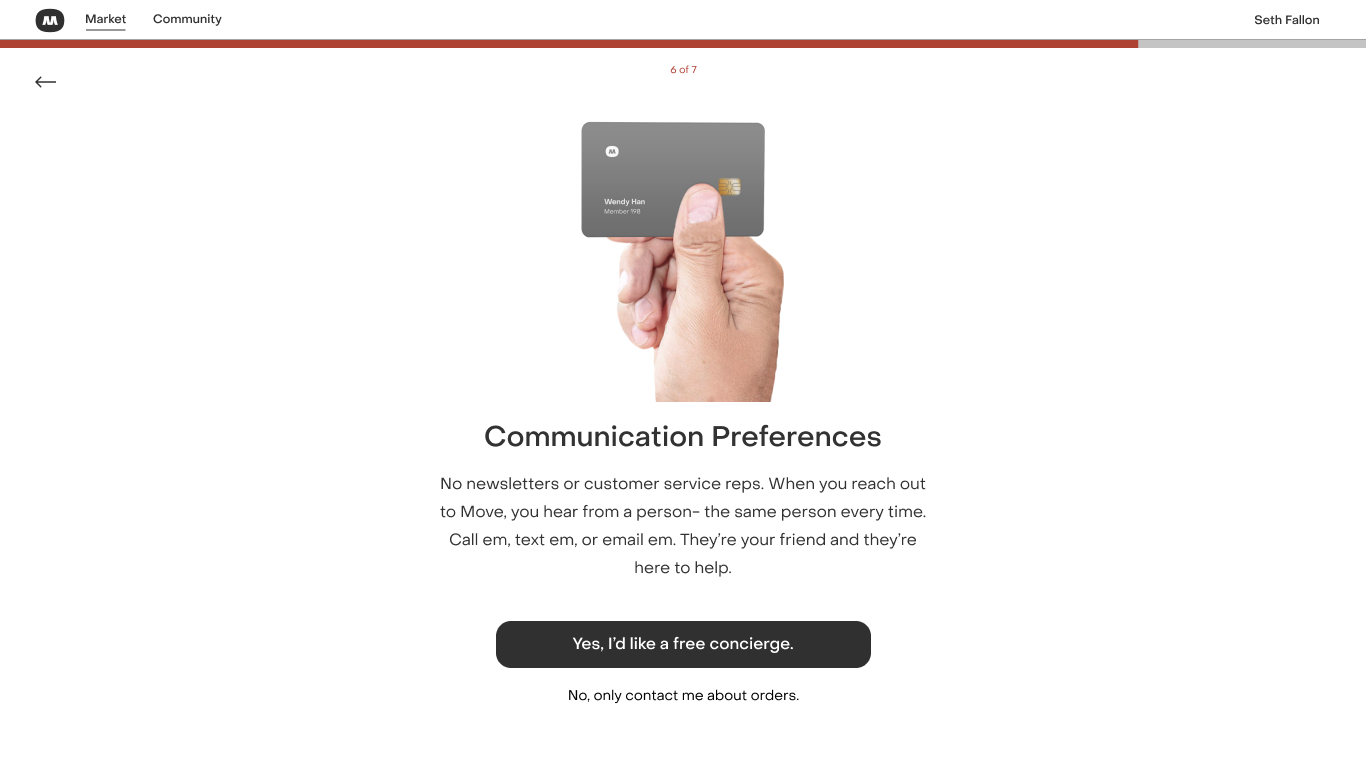 8. Testing
With over 10,000 members awaiting the store launch, we faced 2 problems: we needed to test the onboarding flow and also test our fulfillment capabilities on a limited scale.

We broke down our launch into 3 separate tranches. The first group consisted of 1,000 members selected at random. This would allow us to both evaulate how the the onboarding flow works and measure the volume of shipments we can handle.

We built in trackers on each slide to see were the drop-off occurred in on-boarding. Since we had a concierge team, we were also able to directly ask a few customers what they felt about the onboarding process.

We quickly discovered that members did not like to be prompted first with entering payment details, so we moved it to the second step in the flow. We also found that members really liked how they could select multiple preferences on a single page.

9. Outcomes
After we invited all members to the onboarding process, we saw a 67% success rate with nearly 7,000 members shopping on the store. We attributed a significant number of non-enrollees to dissatisfaction with the product selection and availbility after sending out a survey.

10. Reflection

Even though the launch was an undeniable success, I would have liked more time to refine the design process. There was almost no time for revision, so many of the designs had to be pixel-perfect on the first try. I think this also limited our ability to research and test with users. In the end, creating Move was a ginormous design challenge that gave me the opportunity to establish the design culture and process at a new company.